3 Spring Lawn Care Tips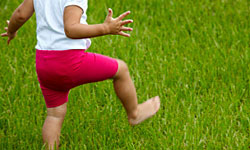 Spring is the time of year when the sun is warm, the breeze is cool, and the steady hum of lawnmowers once again fills the air. American homeowners take a great deal of pride in their yards, spending about $6.4 billion a year on lawn care, according to the Professional Lawn Care Association of America [source: The Lawn Institute]. They buy seed, fertilizer, herbicide, lawnmowers, string trimmers, and other equipment in an effort to create the ideal lawn: a lush, green expanse of grass that feels cool between the toes.
A healthy summer lawn starts with spring maintenance. Winter can alter soil pH, compact the soil, and create conditions friendly to weeds and disease, so it's crucial that you properly clean, fertilize and mow your yard early in the season. So what can you do when winter's receding snow reveals bare spots, invasive plants and other problems with your patch of green? Don't panic -- break out the broadcast spreader and click through our list of spring lawn care tips.
Cleaning and Repairing Your Lawn in Spring
If your lawn is already well-maintained, all you need to do is give it a light raking once the ground has dried out. However, problem areas should be addressed quickly, as they can stress your lawn and make it more susceptible to weeds and disease.
One common problem is uneven ground. Low spots cause poor drainage, while high spots are often scalped by the lawn mower. Since these situations create poor growing conditions for grass, grab a shovel, cut away areas that are raised, and fill in those that are depressed.
Another issue that plagues lawns, particularly in high-traffic areas, is soil compaction. This occurs when the soil becomes densely packed, making it difficult for grass to take root and allowing hardier weeds to take over. To test your yard for this problem, stick a garden fork into the ground. If the tines fail to penetrate 2 inches (5.08 centimeters), your soil is compacted and should be loosened with an aerator designed to remove small plugs of soil from your lawn.
Even if the soil is properly prepared, you can still have a problem with thatch, a tangle of above-ground roots common in dense, spreading grasses like Bermuda and Zoysia. In especially bad cases, a thick mat of thatch can make it difficult for water and nutrients to reach the soil. You can break up thatch with a specially designed rake or with a mechanized dethatcher for larger jobs.
Planting Grass in the Spring
Once you've cleaned and repaired your lawn, you may need to reseed parts of it that are particularly bare or brown. This can dramatically improve the appearance of your grass, but there are a few simple steps you should follow to ensure that it won't look worse after you plant than it did before.
First try to address the soil conditions that prevented grass from growing in the past. Call your local Cooperative Extension office to find out where you can get a soil test; this will tell you what nutrients your lawn is lacking. Once you've corrected your soil composition, aerate the ground to avoid any problems with soil compaction.
Now you're ready to buy seed and spread it on your lawn. Before choosing a seed, determine which varieties will work best in your region of the country and with the amount of sunlight in your yard. Then roughly estimate the size of the area where you plan to plant, as seed coverage is recommended in pounds per square foot. If you're spreading the seed over a large area, it is best to use a broadcast spreader, but smaller areas can be seeded by hand.
Don't ignore the grass once you've planted it. Water regularly to maintain soil moisture and fertilize with a slow-release, low-nitrogen product. Mow when the grass reaches 3 or 4 inches (7.6 to 10 centimeters) in height, but try not to trim off more than a half-inch (1-centimeter) as doing so could stress the plant.
Fertilizing Grass in the Spring
Once your grass is well-established, you can encourage its growth and discourage weeds by applying a combination of fertilizers and herbicides. When you should apply these substances and how much you should apply depends on several factors, like where you live and the extent of your weed problem.
Fertilizer can help your lawn grow thick and lush, but if it's not used properly, it can actually damage the grass. A slow-release nitrogen fertilizer is best, and no more than 1 pound (0.45 kilograms) of nitrogen should be spread per 1,000 square feet (93 square meters). It should be applied early in the season when the turf begins actively growing, so the timing varies among regions. Fertilizer should not be applied too early or late, however, as lingering cold or early heat can stress the grass. Check the packaging to see when and how much you should waterafter applying the fertilizer.
Herbicides must also be used with care, as their effectiveness often depends on when they're used. If you have a widespread weed infestation, it's best to apply a pre-emergent herbicide to your lawn before the seeds germinate in the spring. Be aware, however, that you can't use this treatment if you plan to plant new grass, as the herbicide will also prevent those seeds from germinating. For more isolated problems, spot treating with a non-selective herbicide should be enough to do the trick. Ultimately, the best way to discourage weeds is to have a thick, healthy lawn.